Helping The Most Vulnerable
"If anyone is interested in helping out on a project for the homeless in the Cincinnati area, would you let me know?" That's the simple question that Associate Creative Director, Brett Schindler, posed to the Wilson team. Because the agency is always looking for opportunities to give back to the community, the quick response was a unanimous YES!
The Homeless Problem
Homelessness is a complicated nationwide issue with no easy solution. It directly affects the 3.5 million Americans that experience homelessness every year, and our society as a whole in a number of ways. In Cincinnati alone, the number of homeless is reported at nearly 8,000 by multiple sources. It's not something that will be fixed in one day, but the return of winter weather and the giving spirit of the Holidays (18 percent of yearly charitable giving happens in December alone) compelled Brett to lead the agency to do something.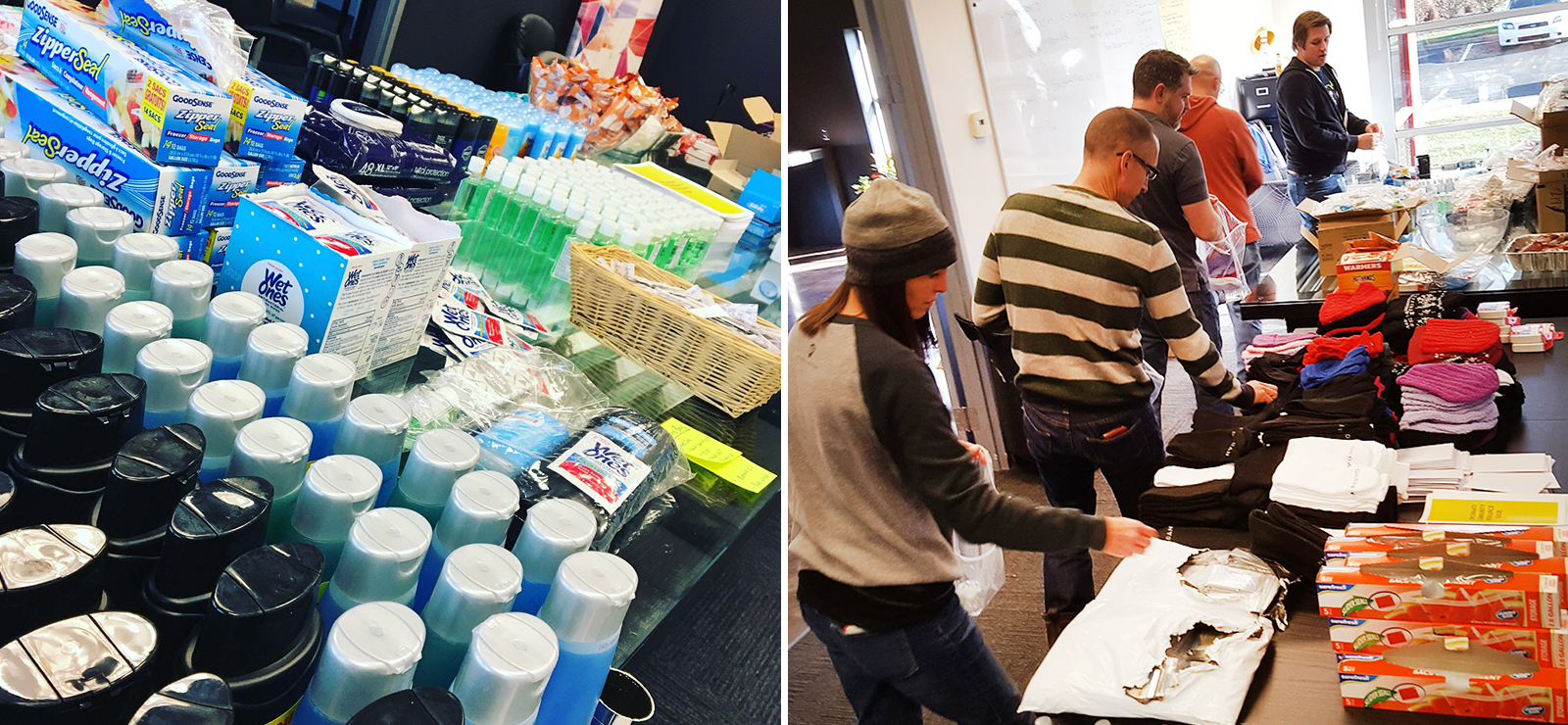 Everyday Essentials Are Different When Every Day Doesn't Include a Home
In addition to the obvious missing shelter, when people are homeless they frequently miss many of the personal items we take for granted every day. Things like warm gloves and socks, toothpaste and deodorant, are barely noticed by many of us, but veritable luxuries for those less fortunate. Blessing Bags fill these basic requirements and add some niceties to those in need. With generous donations from the agency and local businesses, more than $1000 was raised—enough for 100 bags.
It's in the Bag
Each bag had a variety of items that people might need—things for warmth, hygiene, nutrition, and inspiration. Following are the contents of each Wilson Blessing Bag:
Toothbrush / Toothpaste / Floss
Lip Balm
Body Wipes
First Aid Kit
Shampoo / Body Wash
Hand Sanitizer
Deodorant
Tissues
Winter Hat
Socks
Gloves
Mylar Blanket
Granola Bar
Fruit Snacks
Gum
Bottled Water
Inspirational Holiday Card
List of Community Resources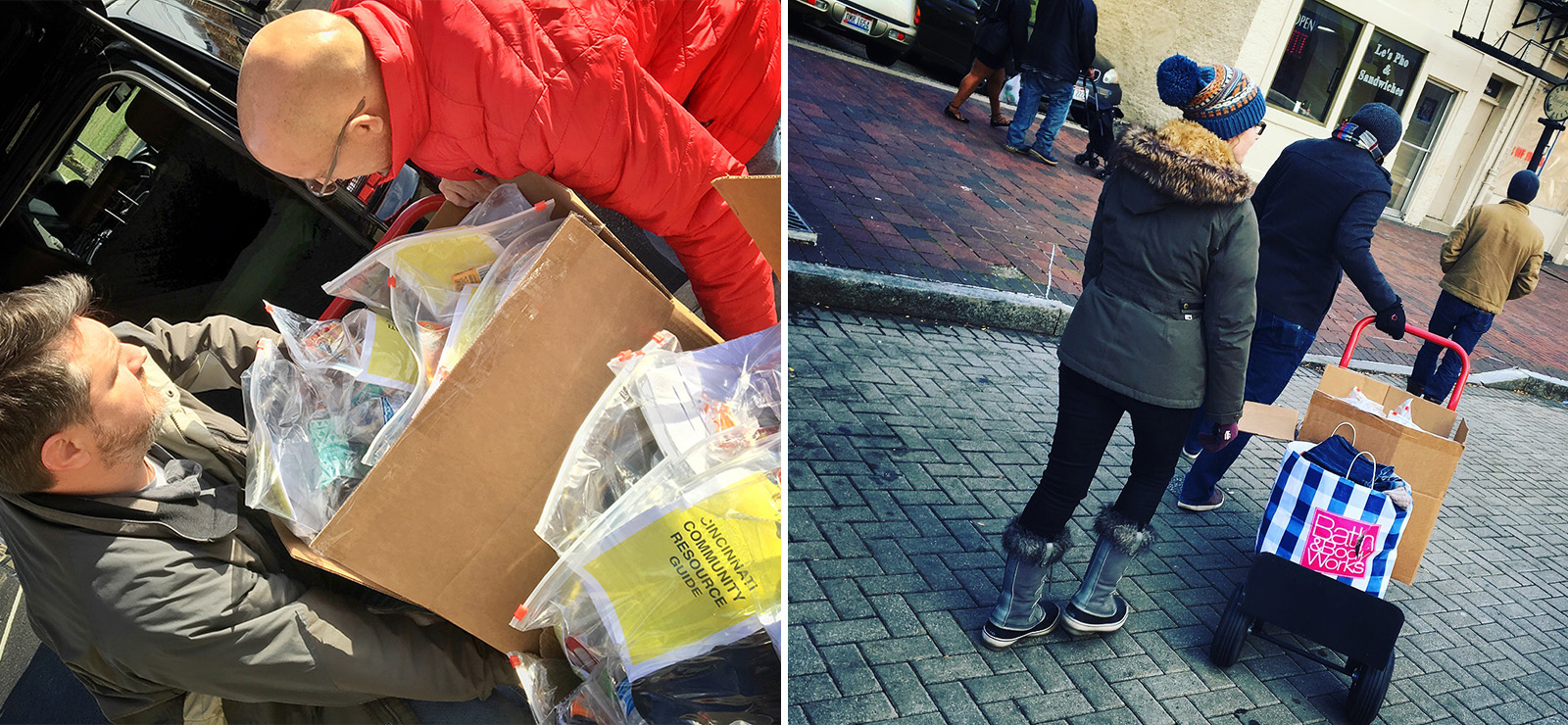 Hitting the Streets
With bags assembled and two cars loaded, the team headed to downtown Cincinnati just ahead of the first real blast of cold weather the area was to receive for the 2017 – 2018 winter season. The need was clear right away. In relatively short order, the team had dispersed the 100 bags and additional clothing they had brought. All of the recipients were very grateful. The sense of community among the homeless was eye-opening. Word spread quickly that the bags were available in order to make sure that others shared in what was available. One local man familiar with others in the area spotted a man pushing a shopping cart around a corner a block away and urged, "Make sure he gets one—he won't come inside no matter what." Art Director Andy Sharpe made sure that the fellow didn't go without, at least for now.
While there were not nearly enough bags to reach all of the homeless in Cincinnati, it was apparent to the team that it mattered greatly to the 100 that did receive them. The only possible regret anyone might have after seeing the situation and talking to people is that they couldn't do more.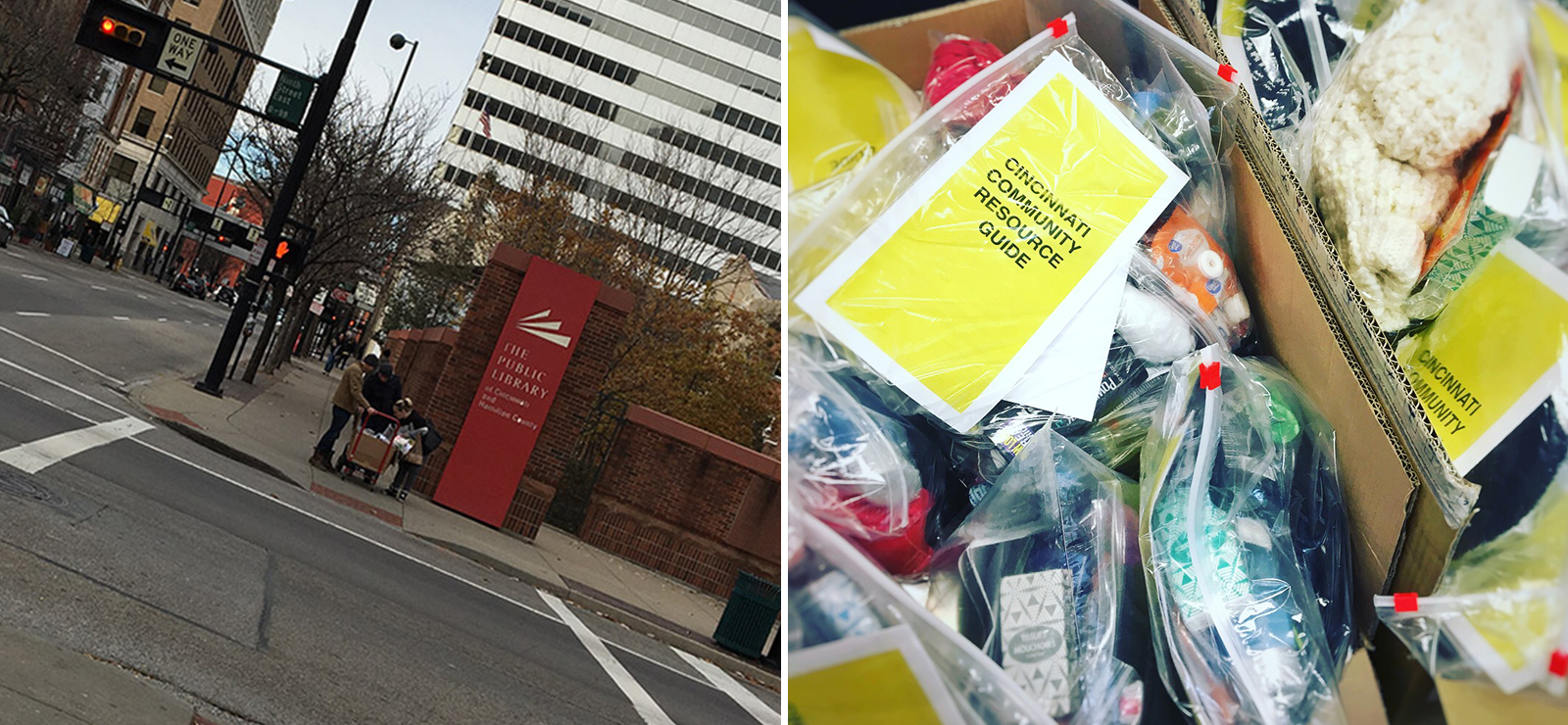 Some Statistics and How You Can Do More
National Homeless Statistics
5 million Americans experience homelessness every year
35 million American children will experience homelessness this year
800,000 American men, women, and children experience homelessness each night
Source: https://cincihomeless.org/about/education/fact-sheet/
Cincinnati Homeless Statistics
7,810 – number of confirmed homeless people
3,435 – number of confirmed homeless men
2,111 – number of confirmed homeless women
48% suffer from mental illness
14% are veterans
Source: http://www.shelterhousecincy.org/homelessness/
How You Can Become More Mindful of the Homeless
Take the 30-day challenge, an interactive way to become more aware of the needs of others. Each day you are presented with a simple activity that will make you more aware of the needs and challenges the homeless face. There's even an app to complete the challenges on the go.
Want to Help?
Find an organization near you: https://www.homelessshelterdirectory.org