By wilson |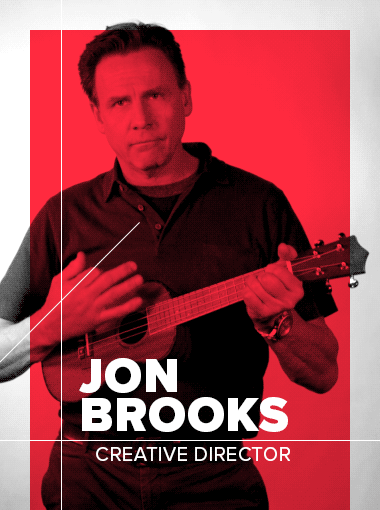 Creative Concepts, Art Direction and Design—and Ukulele
After years in the industry, Jon Brooks recently (finally?) joined the crew at Wilson Advertising, bringing more than four decades of agency experience including 12 years as a Creative Director. "I've been familiar with the agency and had strong connections for years," says Jon. "More recently, I've really gotten to know the team and the Wilson culture, which was crucial for my decision. I like the people, the creative vibe, and the unique space. It all adds up to a great team and family environment that's positioned well to take that next step as a creative agency."
While the mission to oversee all of the creative output of the agency is a big one, he is up for the task. "I truly love solving problems with creative solutions, no matter how complex or mundane," says Jon. "Communicating this passion helps me connect with many different personalities. I've been in the trenches so I'm able to connect and build a level of trust with my team as well as with the client. This in turn helps everyone to take the blinders off and look at problems from different angles and new solutions. While always striving for excellence in our craft, I'm also patient, compassionate, and genuine in my approach to creative."
When Jon talks about excellence, it's not just talk.
"Over the years I've been fortunate enough to be the recipient of multiple awards, both regional and national. This includes two Best of Show awards in the Greater Dayton Addy competition." His goal is to translate those experiences to the team. "I'm all about making everyone better and upping the already strong creative game across the board by challenging myself and everyone here to strive for great and not settle for less. This will help build value and trust from our clients in our ability to guide their brands to the next level."
Outside the office Jon is just as committed to excellence, enjoying family time, playing the ukulele, and advocating for children and families affected by autism. Wilson is pleased to add his family, passion, and ukulele to the team.
Meet the rest of our crew and see our work.